Welcome to the IMG Residency Match Podcast!
A trusted resource for Ambitious International Medical Graduates who want information and inspiration to help them match.
We feature IMGs who have successfully matched and guest experts.
Our mission is to help you get to that "Congratulations!" email on match day, and a medical career you love.
 Subscribe Now to Discover Why Our Community of Ambitious IMGs Give Up Sleep to Catch Every Episode of the IMG Residency Match Podcast.

CLICK TO SUBSCRIBE ON ITUNES

CLICK TO LISTEN ON SPOTIFY

PLEASE EMAIL ME NEW EPISODES

JOIN THE IMG RESIDENCY MATCH MADE SIMPLE COMMUNITY
Warning
: Undefined array key "slide_orderby" in
/home/memora12/public_html/wp-content/plugins/wp-client-logo-carousel/wp-client-logo-carousel.php
on line
205
"When a podcast not only inspires you, but gives you the clear steps needed to put the insights you learn into rapid, profitable action"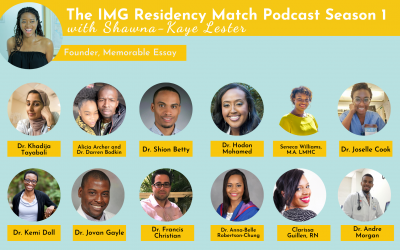 It's a wrap on season 1 of The IMG Residency Match Podcast! Here is a recap of those who joined us to share their expertise on preparing for the match, successfully navigating the match process, and creating your dream medical career with you, Ambitious IMG. Episode...
Want to listen to exactly what you need without sorting through every single episode?
Pick a collection below to get simple, actionable advice that works, based on the stage  you're at in your match journey.
Be Successful in The Match
How  to improve your odds of matching as a first-time applicant, or how to ensure you don't fail again if you're a reapplicant.
What Happens After The Match
You've matched. Congratulations! Now what? Find answers for your post-match considerations here.
Guest Experts on Medical Careers
Your match journey is just a part of what can be a free, full, and beautiful career and life. Find out how you can use medicine to create a life you love.
Do you have any advice on…
THE ANSWER TO YOUR BURNING QUESTION COULD BE HERE.  IF IT'S NOT HERE YET,  IT'S IN MY BRAIN OR IT'S THE ANSWER AN EXPERT  WHO HASN'T BEEN FEATURED KNOWS LIKE THE BACK OF THEIR HAND.  IF YOU DON'T FIND WHAT YOU NEED, SEND AN EMAIL REQUESTING THAT IT BE THE TOPIC OF A FUTURE EPISODE.
You're busy.  Do you want new episodes conveniently delivered to your inbox?